Furnace Replacement in Everett
Your home is your refuge but it could be like a prison if your HVAC is not working properly. If you need a new furnace and live in Everett,WA, it's best to call a professional to do your furnace replacement in Everett. Do-it-yourself fixes are good if you are in the HVAC installation and repair business. But if not, contacting an experienced contractor is your best bet. If you feel that something is not right about your heating or air conditioning system, it is the right time to avail services from an HVAC expert at All Ways Heating & AC. We've been providing top quality service and installation of heating & cooling systems in Everett and the surrounding area since 1986s.
Benefits of New Furnaces
Aside from looking for the right contractors, you should also consider the magnitude of repair that you need to get done. If your heating and air conditioning system is old, perhaps it is about time to invest on a new one.
New central heating systems require less maintenance and are more efficient that old models. It might sound costly at first, but you can certainly have your investment returned when you reap its benefits for a long time. A new HVAC system can maintain your property while making it more comfortable. If you have finally decided to install a new heating system, you can take the next step: looking for the contractor to do your furnace replacement in Everett.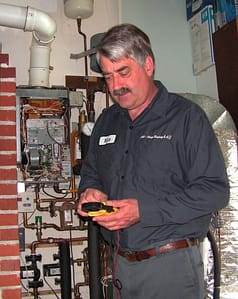 Choosing an HVAC Contractor
The first thing that you should look for an HVAC contractor is professionalism. It comprises certain factors such as licensure and insurance. Make sure that your contractor can present their license and prove that they are insured. Many companies take pride from their employees who are free of drugs and have clear backgrounds. Being courteous has also become a standard in the HVAC installation and repair industry so it wouldn't be difficult to find customer friendly contractors. Expect that your contractor will provide that services that you deserve. Furthermore, look for contractors who have at least 5 years of experience in the trade.
See to it that your contractor arrives on time. If not, it is better to cancel the contract and look for another. They may offer excellent customer service but if they cannot deliver it on time, it is as good as nothing. In addition, companies that offer 24hour service are worth considering. In case a problem arises in your new unit, for example, when you need furnace repairs in Everett,you can call them to have it fixed immediately. No time should be wasted when it comes to keeping your home comfortable for your family. You must not allow the weather to ruin your days or nights.
You might be surprised about the overwhelming options that you can find when you look for furnace installation contractors. There are those who offer high end services and there are those that come really cheap. To be able to choose wisely, consider the size of your home and your budget. This way, you can avoid losing money for unnecessary expenses and at the same prevent having problems because of mediocre work installing your central heating sytem. Think about your needs and you will surely get the right services at the right price.
Also, do not forget to ask for a list of their previous clients and check these references. Testimonials are great tools in finding the company to do your furnace replacement in Everett.